Det Pittoreske Bæst
(The Picturesque Beast)
37:26



Synopsis

Det Pittoreske Bæst er en multi-narrativ hybridfilm som følger en antropomorfisk ulveskikkelse, hvis formål bliver at håndgribe den sublime natur. Sat i tidlig guldalder samt parallelt i en ikke så fjern fremtid.

The Picturesque Beast is a multi-narrative hybrid film that follows an anthropomorphic wolf-like figure whose purpose is to capture the sublime nature. Set in the early danish golden age (romantic era) and as well in a parallel not so distant future.



Screenings
April — CPH DOX Official Selection - New Danish Film: Premiere @ Cinemateket
Copenhagen, Denmark




May — BFA degree show @ Kunsthal Charlottenborg

Copenhagen, Denmark




August — solo presentation and screening @ Brigade Gallery
Copenhagen, Denmark
August — Make Friend Not Art: Underbellies @ Bundesallee 213-214
Berlin, Germany
August — New Other Odd screening #2 @ Cantina

Aarhus, Denmark
5th September — Screening @ Zolforosso

Venice, Italy
19th September — Screening @ Partara Gallery

Tbilisi, Georgia
26th September — Screening @ Kunsthal 44

Møn, Denmark
October — Online via Amulet Magasin

Copenhagen, Denmark
Group shows
Christmas Salon @ Alice Folker 2021
Copenhagen, Denmark

Make Friend Not Art: Underbellies 2021
@ Bundesallee 213-214

Curated by Caroline Marie Ballegaard
Berlin, Germany
"HUMAN ERR0R", GMO Gallery 2020
New York, USA (Online)

Staff Only, Salon 75 2020
Copenhagen, Denmark

Rehearsal of The Beast, Rum46 Studsgade 2020
Aarhus, Denmark

The Legend of the Larynx Metamorphosis 2019
Bologna, Italy
Zoom With Your Feet (Make Friends) 2019
Copenhagen, Denmark

Homesick Gallery - Fantastic Sunny Apartment And 10 Min To Manhatten 2019
Brooklyn, New York

Learning From (Learning) Albertslund 2019
Albertslund, Denmark

Supermarket Art Fair curated by Ta-Da
2019
Stockholm, Sweden
Pulsar Festival, Udstillingsstedet Q
2019
Copenhagen, Denmark
Vibevej Præsenterer: Rentemestervej 69B 2019
Copenhagen, Denmark

First year exhibiton, Udstillingsstedet Q, The Royal Danish Academy of Fine Arts 2019
Copenhagen, Denmark

Kunstnernes Efterårsudstilling, Den Frie Udstillingsbygning 2018
Copenhagen, Denmark

Calculation LIVE online-performance, Tashkent International Biennale for Contemporary Art 2018
Tashkent, Uzbekistan

Båndmagasinet no. 2, The Lake Radio. 2018
Copenhagen, Denmark

Walther & Langgaards Artists Supplies, Delfi 2018
Malmö, Sweden

Nye Rør!, Salon 75 2018
Frederiksberg, Denmark

Don't Feed The Troll, Salon 75 2018
Frederiksberg, Denmark

Vi Tager Intet Ansvar 5
, Kræ Syndikatet & Warehouse9 2017
Copenhagen, Denmark
Flerdagesdrøm festival 2017
Slangerup, Denmark

Ingen Jury, Ingen Præmier, Salon 75 2017
Frederiksberg, Denmark

In The Gallery #10 No Title, Carlsberg Byens Galleri & Kunstsalon
2017
Copenhagen, Denmark
Spring Exhibition Charlottenborg 2017
Copenhagen, Denmark
Krystalpaladset, Odensemusikbibliotek 2017
Odense, Denmark
Drafts of Ecology/Thought & Memory: Interior & Exterior

Kerka Gallery St. Petersburg, Russia — February 2022



The exhibition at KERKA gallery intends to explore the architecture and geography of Scandinavian agricultural (or, 'Agrilogistical') history, moreover, the presentation wish to act as a stepping stone for the research of a coming filmwork also entitled Thought & Memory. The show investigates a historical assembly of locations and architecture with agricultural significance by distilling and obstruct several types of constructions and locations. The story, narrated by the mythological beings, Hugin & Munin (or, Thought & Memory) - two ravens who traverse the Norse landscape by the order of the Norse god, Odin, to report back on its condition - is acting as a driver for the narrative in order to stitch the different historical eras together.

In the narrative, the ravens are embodied by 'quadcopters' (or drones) to reference not only the usage of drones in modern surveillance of crops in order to avoid weeds, but likewise used for human surveillance. Formally the exhibition functions as an investigative playground from which speculations and abstractions of the narrative - and more specifically the architecture and locations within it - is explored as a method of researching. The presentation briefly touches upon subjects such as a famous painting from the realist period of Danish art history (Udslidt/Martyr - H.A Brændekilde), timber frame housing structures, vertical farming technology, and a prehistoric grain drying facility goverened by two ravens.





The Martyr 2022

Spirulina and Inkjet on canvas


Thought & Memory (Beta) 2022

1-channel animation with sound


Safehouse 2022

Lime wood and full spectrum grow light.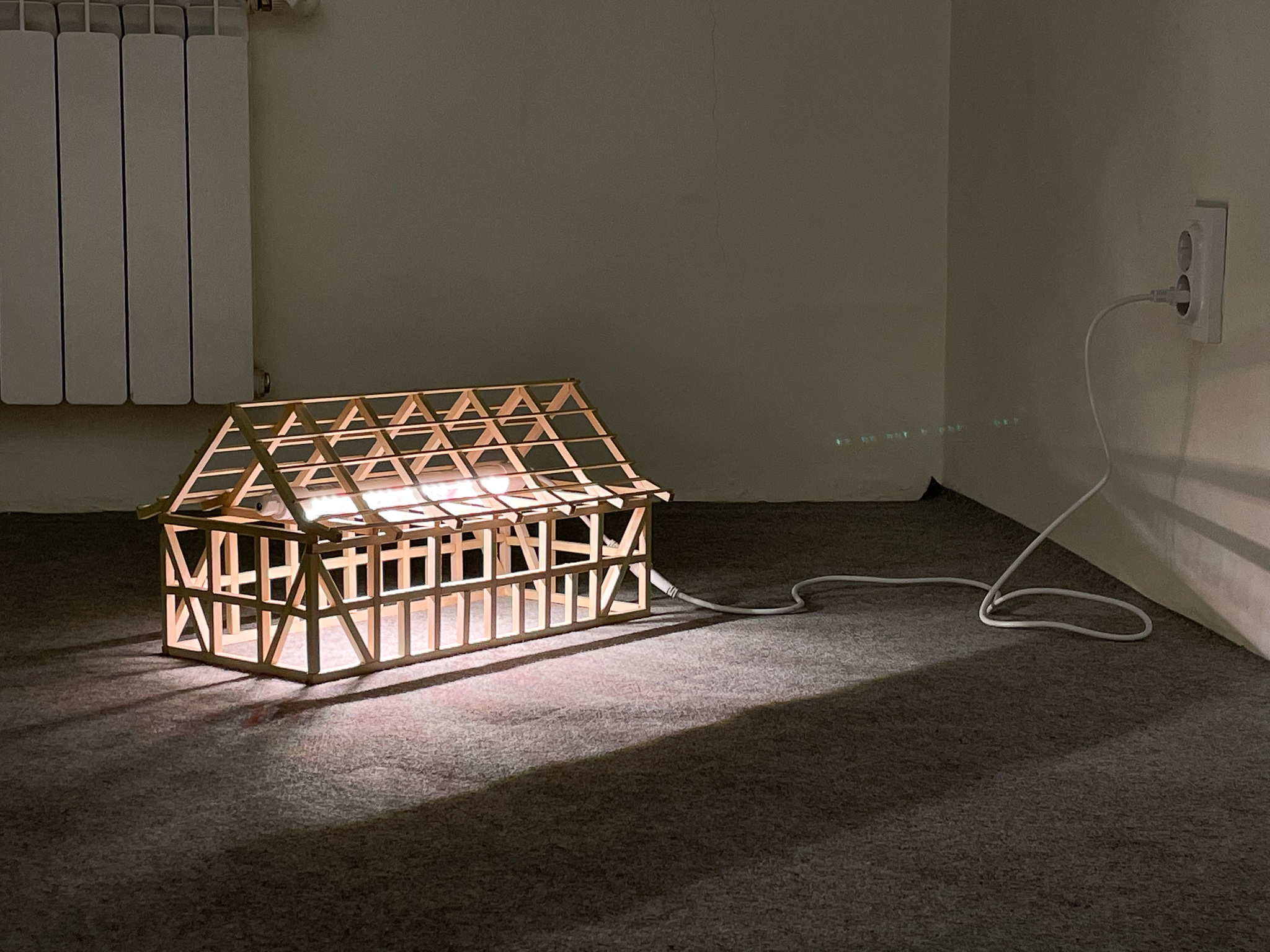 Drafts of Ecology:
URD

Curated by Theodor Nymark



VR WORKS

More images via Tzvetnik

@ CCI Fabrika - Moscow, Russia
Opening 28th January 2022


The Weird is always becoming something, decaying from its origin or depicts a tension of opposites which initially generates its continuous motion. The Weird will never be static and will most likely never rest its legs on the kitchen counter. The Weird is never plus or minus, never he or she. The Weird is always revolving. As the leaf from the oak tree, who falls from its branch onto the forest floor and then, devoured by the fungi mycelium only for it to be rearranged back again into the loop, the Weird.
Ecology is Weird.

The curation of Drafts Of Ecology: URD wish to examine the theme - Trend - initiated by APXIV, by exploring the etymological history and its relation to the ecological concept of a loop. The term trend, derives from the Old English trendan - to 'revolve" or to 'rotate'. The concept of the loop in ecological terms refers not only to the circular aspect of nature and biology, but likewise to the notion of the weird, or Urd.

"Wyrd is a concept in Anglo-Saxon culture roughly corresponding to fate or personal destiny. The word is ancestral to Modern English weird, which retains its original meaning only dialectically.The cognate term in Old Norse is urðr, with a similar meaning, but also personified as one of the Norns, Urðr (anglicized as Urd) and appearing in the name of the holy well Urðarbrunnr in Norse mythology The Old English term wyrd derives from a Common Germanic term *wurđíz.[1] Wyrd has cognates in Old Saxon wurd,[2] Old High German wurt,[3] Old Norse urðr, Dutch worden (to become), and German werden.

The Proto-Indo-European root is *wert- "to turn, rotate", in Common Germanic *wirþ- with a meaning "to come to pass, to become, to be due" (also in weorþ, the notion of "origin" or "worth" both in the sense of "connotation, price, value" and "affiliation, identity, esteem, honour and dignity)." — Wikipedia

Ecology - a term coined by German zoologist (among other), Ernst Haeckel - is the study of the relationships between living organisms, including humans, and their physical environment.The eco in ecology derives from the Greek oikos, a "house, dwelling place or habitation". I intend to deploy the dark ecologist thinking (or thinking of a logic of coexistence - Timothy Morton) in order to comprehend the surrounding environment, not only as biological matter, but likewise as alloy, concrete and minerals…




Tue Greenfort
'Remember Anna Politkovsaya'
Newspaper cut-out.
2022

Morten Knudsen
'C is of Crisis'
Mixed media on paper.
2020/2021/2022

Amanda Del Valle
'Motteke! Sailor Fuku!'
Graphite, colored pencil and kneaded eraser on paper.
2022

Amanda Del Valle
'Motteke! Sailor Fuku!'
Graphite, colored pencil and kneaded eraser on paper.
2022

Amanda Del Valle
'Motteke! Sailor Fuku!'
Graphite, colored pencil and kneaded eraser on paper.
2022

Emilie Bausager
Soothsayer Herbaria:
1. 'Got butter?'
2. 'Shepherds clock Thunder'
3. 'Thunder flowers'
Inkjet on paper.
2022


Kirstine Bjerre
'Gamers never die they just respawn'
Graphite and water on paper.
2022

Amitai Romm
'Analyst (test)'
Inkjet print on paper.
2022

Rowda Abdirahman
'Awake But At What Cost'
Inkjet print on paper.
2021

Sofus Keiding
'Tiny wired box on a grid, plus last two weeks of movement in numbers'
C-print, inject on hahnemühle, modeling foam.
2022

Melanie Kitti
'Untitled (pick bones, pick cones, pick stones, pick corazones)'
Acrylic and oil pastel on sandpaper.
2022

Astrid Svangren
'när havet är blått och svart'
Watercolor on Japanese Silk paper.
2022


Thor Kazuo
'Willow Paper (cut, steamed, beaten, pealed, boiled, pealed, dried, beaten, mixed, dried)'
Willow fiber, corn starch.
2022

Thor Kazuo
'Steamed'
Print on Paper.
2022

Thor Kazuo
'Pealed'
Print on Paper.
2022

Vitaly Bezpavlov
'Human's Pod (Always CC Round_a) I'
Coca Cola, soaked masking tape on foam board, varnish, cigarette ash.
2022

Rolf Nowotny
'Fathers Story'
Inkjet on paper.
2022

Rolf Nowotny
'Hobgoblin'
Inkjet on paper.
2022

Emilie Iman
Øjne for Huacatay'
Oil on canvas.
2022


Claus Haxholm
'T: Circulars (in co/lab with stress indicators) M: loops of circular medias,themes and situations.'
VR and sound work
2022

Frej Volander
'Contemplation Conquers Interaction'
VR Work
2022

Bing Qing Dong
'Lily of the Rocks'
VR Work
2022

Gunk Spore
'Bandicoot'
VR Work
2022

Nils Plum
'Game of Tomorrow Substituting Livestock'
Text
2022

Fafaya Mogensen
'Trend Piece'
Text
2022





RU:



Drafts Of Ecology: URD
Куратор Теодор Неймарк (Theodor Nymark)

«Странное» всегда превращается во что-то большее, отказываясь от своего изначального происхождения или создавая напряжение между противоположностями, что впоследствие провоцирует его дальнейшее развитие.

«Странное» никогда не будет статичным, недвижимым состоянием.

«Странное» никогда не будет чем-то однозначно положительным или отрицательным. «Странное» – это не «он» и не «она».

«Странное» всегда изменяется. Как лист, упавший с ветки дуба на лесной ковер, а затем покрывшийся мицелием грибов, только для того, чтобы снова включиться в вечную цепочку.

Экология и есть «Странное».

Куратор проекта «Drafts Of Ecology: URD» Теодор Неймарк в проекте осмысляет тему «тренда», предложенную ему группой художников APXIV (Россия). Путем изучения этимологической истории слова и ее связи с экологической концепцией цикличности природы. Термин «тренд» происходит от древнеанглийского «trendan» — «вращаться» или «вращаться». Понятие цикла (loop) в экологических терминах относится не только к круговому аспекту природы и биологии, но и к понятию «странного», или Урд.

«Wyrd» – понятие в англо-саксонской культуре, примерно соответствующее судьбе или личной судьбе. Это слово является предком современного английского weird, которое сохраняет свое первоначальное значение только диалектически.





Родственный термин в древнескандинавском языке - urðr с аналогичным значением, но также олицетворяемый как одна из норнов, Urðr (англизированный как Urd) и появляющийся в имени святого колодца Urðarbrunnr в скандинавской мифологии.

Древнеанглийский термин wyrd происходит от общегерманского термина * wurđíz. Wyrd имеет родственные слова в древнесаксонском wurd, [2] древневерхненемецком wurt, [3] древнескандинавском urðr, голландском worden (стать) и немецком werden. Протоиндоевропейский корень *wert- «вращаться, вращаться», в общегерманском *wirþ- со значением «случаться, становиться, быть должным» (также в weorþ понятие «происхождение "или "стоит" как в смысле "коннотации, цены, ценности", так и в смысле "принадлежности, идентичности, уважения, чести и достоинства)". — Википедия

Экология — термин, введенный немецким зоологом (среди прочего) Эрнстом Геккелем — это изучение отношений между живыми организмами, включая людей, и их физической средой.

Эко в экологии происходит от греческого ойкос, «дом, жилище или жилище».

Я намерен развернуть мышление темного эколога (или мышление логики сосуществования — Тимоти Мортон), чтобы понять окружающую среду не только как биологическую материю, но и как сплав, бетон и минералы.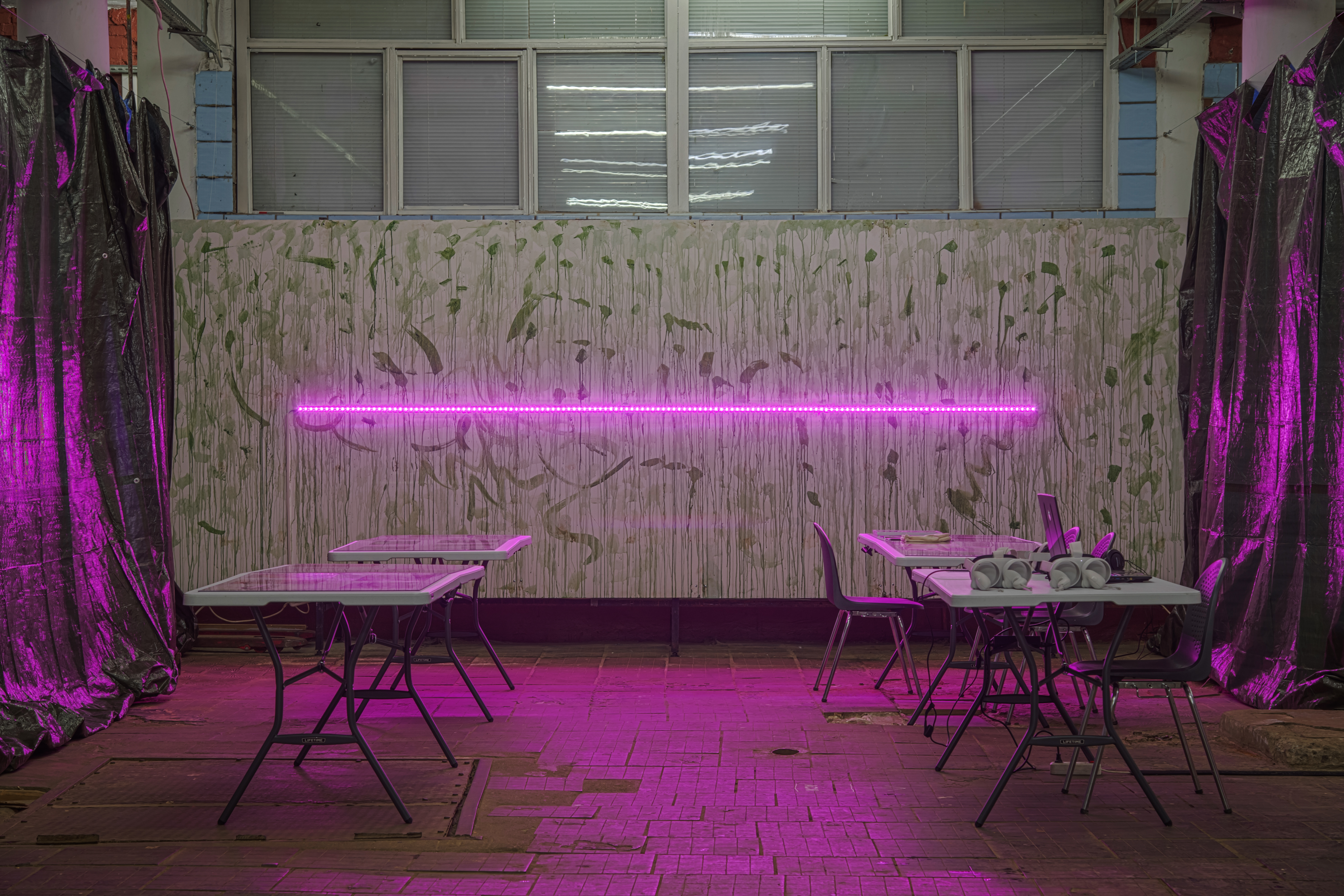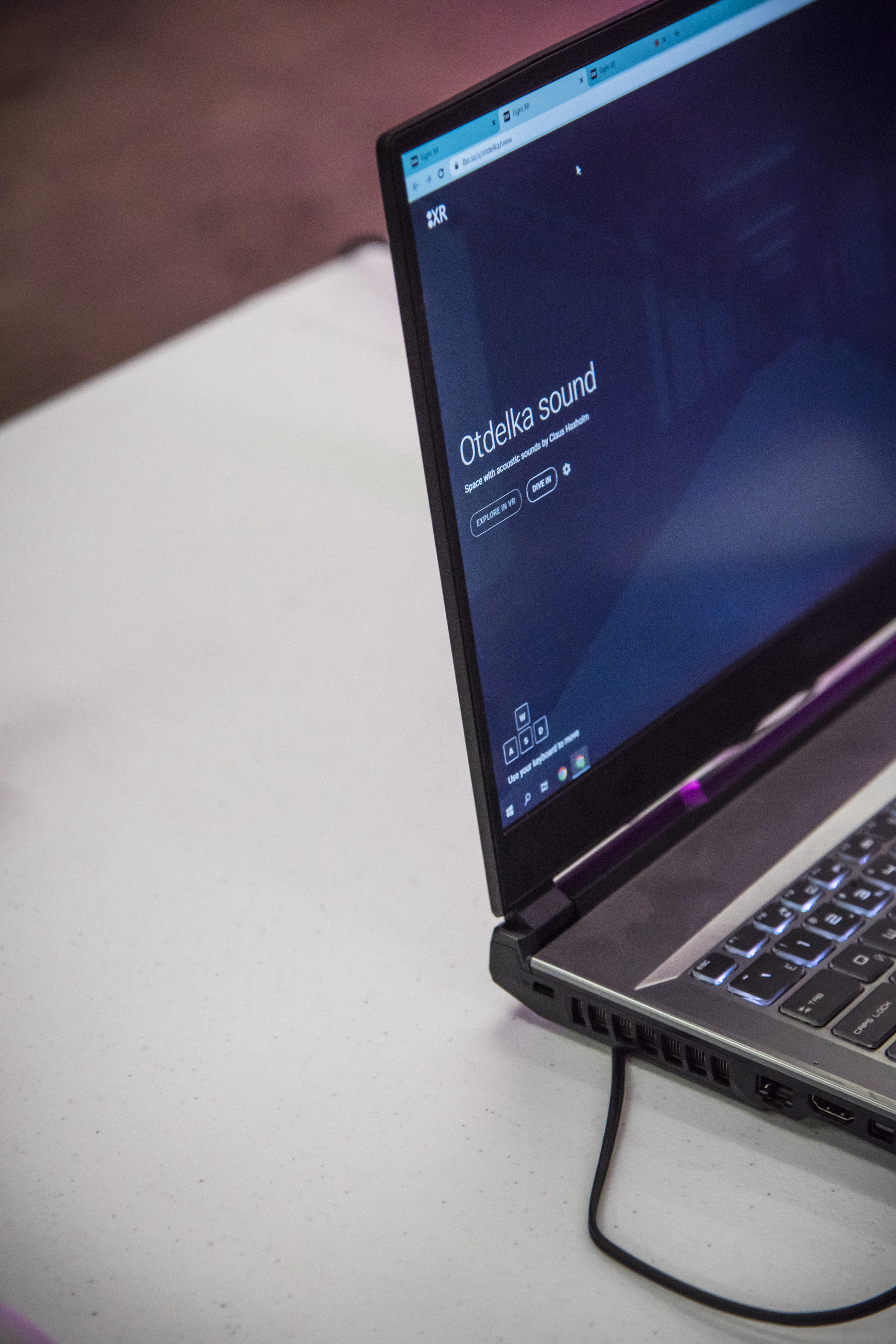 Drafts of Ecology:
SIRENIA
@ Servando Gallery
Theodor Nymark
Drafts of Ecology: SIRENIA.

The name Sirenia, derives from the latin family of manatees and also refers to the perceived relation between manatees and mermaids, as the early explorers and colonialists reported seeing humanoid sea-creatures similar on their travels.

The Spanish were of course not the first to arrive in the Caribbean and what seemed novel, even magical, to the newcomers was already an ingrained part of the historic cultures of the region.

Researchers of aboriginal culture and marine biology has long discussed the relation between the native people of the Caribien islands and the creature of the manatee (specifically the West Indian Manatee - Trichechus manatus) and have argued that the original cultures of the Caribbean not only hunted and ate the manatee (in a sustainable manner). More importantly their research attest to the significant spiritual relation the large and magnificent sea mammal have had, with an academic consensus that the aboriginals saw the creature as a potent liminal being – straddling both the boundary between sea and land and that between life and death.

It is these entry-points that the Danish artist Theodor Nymark has used as the basis for his new series of art works, where he investigates the cultural significance of the manatee population in the Caribbean and poses the significant question of whether the conservation of wildlife manatees could also be a step forward in the conservation of the aboriginal Caribbean culture?

To initiate his project Nymark has approached his subject-matter through the lens of geo-mythology - the study of alleged references to geological (or ecological) events in mythology. By using the concept of geo-mythology Nymark explores the relation between political, ecological and societal structures and mythological and spiritual traditions and narratives.

Primarily one question has come to the fore and has been posed to two academic researchers (a biologist & archeologist): What Happened To the Manatee Population?

This pivotal question forms the core of the exhibition and is further explored in the central video-piece of the exhibition. The resulting cinematic and documentaristic film-work revolves around two primary scenes: an interview between an archaeologist with years of expertise in aboriginal Caribbean cultures and a marine biologist with expertise in manatees — and a musical ceremony on boat at Marina Hemingway where a manatee was recently spotted by local fisherman despite having allegedly disappeared from the island.





The interview seeks to explore and investigate the relation between ecology and culture and how, through the lens of geo- mythology, the concept of nature is inherited by the people and cultures that inhabit it. Likewise the interview seeks to give the voice to the experts who actually have the knowledge at hand rather than speculating on it from the uninformed perspective of an outsider.
The ceremony on the boat forms a tribute to the lost manatees. A captain, smoking a cigar sails famous latin musician Julio Padron around a harbour. Meanwhile Julio plays in intervals and circulates back and forth between emulating the underwater sounds made by manatees and mixing with latin-cuban jazz traditions. This gesture seeks to reestablish and reinforce our relation to manatees through the animistic ritual of becoming one with the environment.

Alongside these two primary elements there is also footage of artisan Yuri Romero Penalver's workshop and his practice, as well as underwater and nature footage by photographer Alejandro Reyes. Both serve to reinforce the original habitats of manatees that has sustained the ritual practices surrounding its populations.

Because of the broad, and at times disparaging, fields of investigation, Nymark's exhibition at Servando Gallery deploys different sculptural and pictorial outputs which are primarily connected through their shared Cuban locality. These works vary from painterly practices dealing with traditional cuban music culture and dancing, to reconstructions of ceremonial manatee ribs made by artisan Yuri Romero Penalver and his colleagues. Likewise, museumlike displays of aluminum boats created by local artisan, Cochelata are exhibited within a box constructed of materials, found or made locally in Havana and juxtaposed with a map of the area in which the shooting of parts of the film took place.

As material resources are in scarcity due to many different factors, all materials have been chosen for their relation to Cuban culture - the aluminium boat point towards a sustainable and material acknowledgment where all materials have an inherit aesthetic value. Similarly, the different kinds of wood for used for the manatee rib reconstructions are native to the island of Cuba. By working with local artisans, Nymark's hope is to advocate for a local and sustainable production of art, where local artisans may present their individual practice and also engage in new collaborations to develop the language of contemporary and historical Cuba further.

The exhibition can therefore be seen as a wish to decentralize artistic practices and source knowledge from local actors rather than presenting the artist as an individual genius and originator of everything presented. After all, we are always stronger united.

Michael Bank Christoffersen
2021. Havana, Cuba

Courtesy Theodor Nymark (Denmark, 1997)
Servando Gallery, Havana 2021
Produced by: Brigade Residencia Habana
Drafts of Ecology: Sirenia — 2-channel - 55 min. video installation

Director: Theodor Nymark
Producer: Brigade Gallery
Cinematographer: Alejandro Reyes
Sound: Soledad Sánchez Vidal
Editor: Alejandro Reyes, Soledad Sánchez & Theodor Nymark
Music: Julio Padrón & Theodor Nymark
Translator & Subtitles: Beatriz Viñas





Protagonistas / Starring:
Yuri Romero Peñalver, Artesano/Artisan
Julio Padrón, Trompeta / Jazz Trumpetist
Ryan Bethancourt Ávila, Especialista en Manatíes / Manatee Specialist
Daniel Torres Etayo, Dr. Arqueólogo / Phd. Archeologist
Michel Domínguez García, Patrón/ Captain
Costillas Sirena No. 1
Guayaba wood, metal clamp and laser cut plexiglass.



Costillas Sirena No. 2
Jocuma Amarilla wood, metal clamp and laser cut plexiglass.



Costillas Sirena No. 3
Guayaba wood, metal clamp and laser cut plexiglass.



Costillas Sirena No. 4
Guayacán wood, metal clamp and laser cut plexiglass.



Costillas Sirena No. 5
Pino Tea wood, metal clamp and laser cut plexiglass.



Costillas Sirena No. 6
Majagua wood, metal clamp and laser cut plexiglass.



Costillas Sirena No. 7
Mango wood, metal clamp and laser cut plexiglass.



Costillas Sirena No. 8
Yarua wood, metal clamp and laser cut plexiglass.



Costillas Sirena No. 9
Majagua wood, metal clamp and laser cut plexiglass.



Costillas Sirena No. 10
Yana wood, metal clamp and laser cut plexiglass.
El Gabinete Del Marina ( Theodor Nymark & Irenado Chochelata)
Ink on MDF, laser-cut plexiglass, miniature water texture, aluminum and Television imitation LED lamp.
2021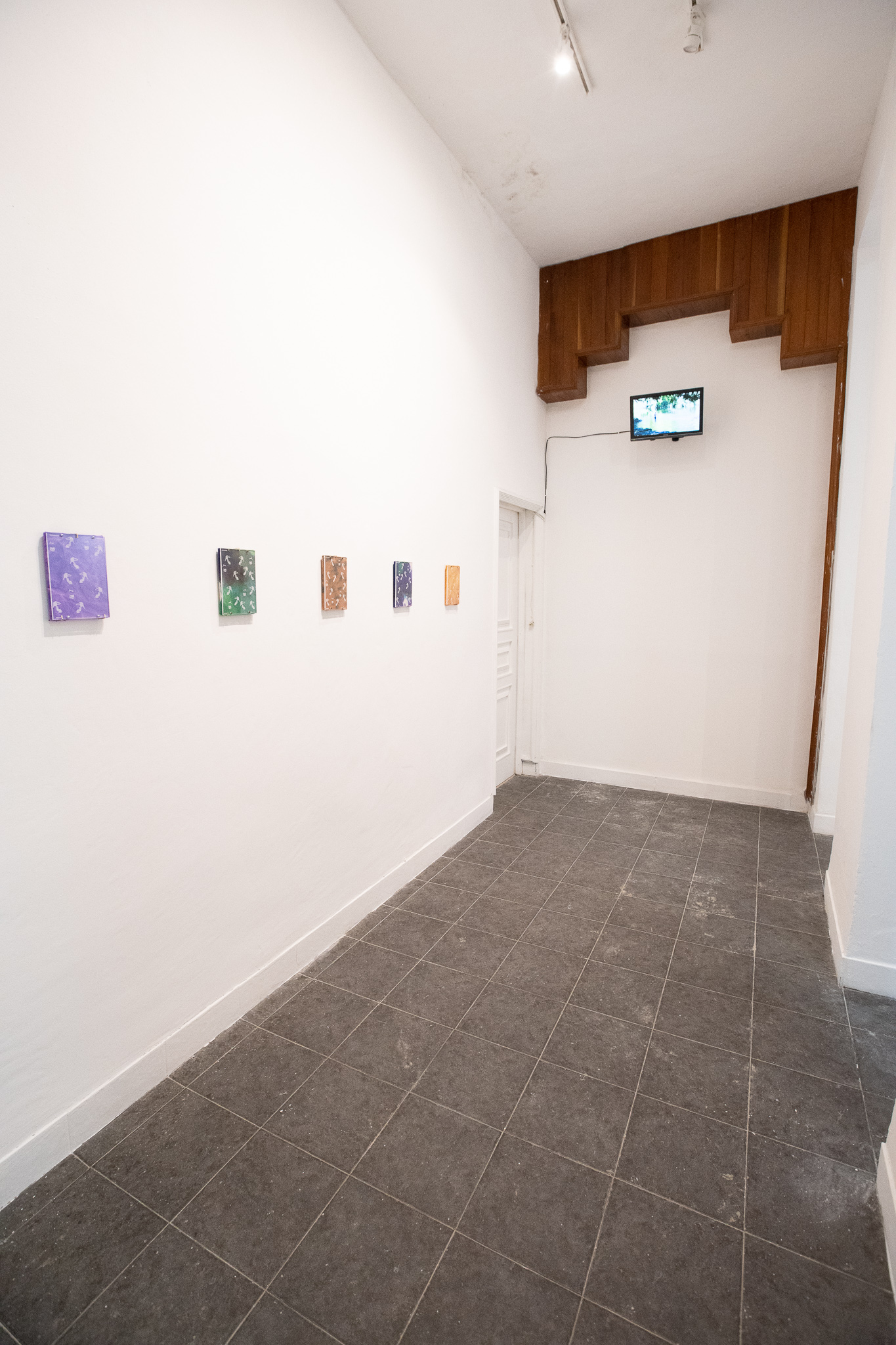 Tabla De Baile No. 1
Ink and laser-cut plexiglass on canvas
2021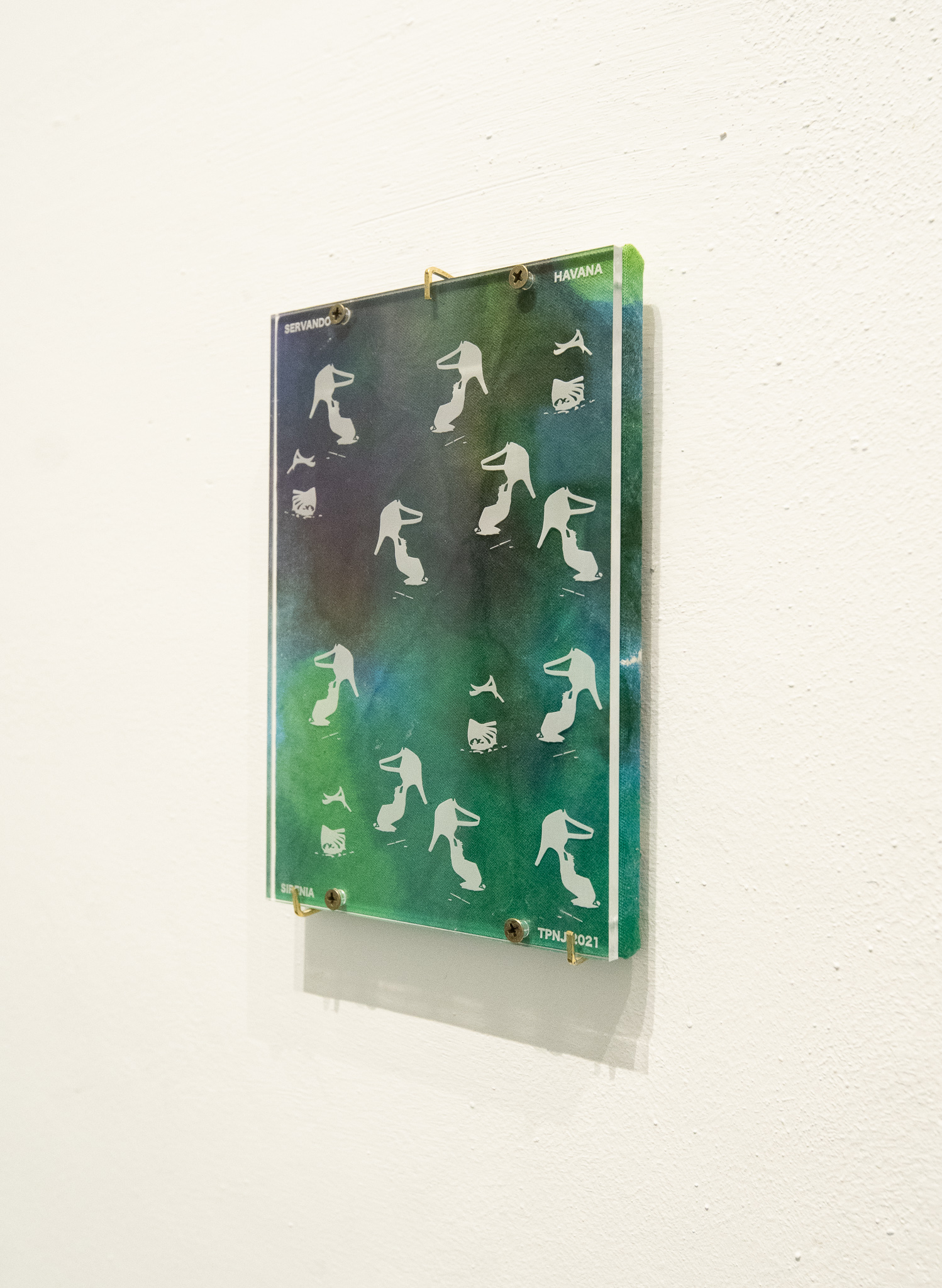 Tabla De Baile No. 2
Ink and laser-cut plexiglass on canvas
2021



Tabla De Baile No. 3
Ink and laser-cut plexiglass on canvas
2021



Tabla De Baile No. 4
Ink and laser-cut plexiglass on canvas
2021



Tabla De Baile No. 5
Ink and laser-cut plexiglass on canvas
2021



Instalación en colaboración con/Produced in collaboration with

Yuri Romero e Irenado "Cochelata"
Arístides Serrano Cedeño
Tomas Kessel Barrabeitg
Ordanys Castillo Pedroso
Roberto García Expósito
Daniel Jardines
Wilfredo Cobas Dávila

Agradecimientos para / Special Thanks:
Carlos César Castañeda Coca
Pedro Antonio Durán Fernández
Lázaro Zamora Jo
Missael Guerra Rodríguez




Brigade Havana Residency
Kristoffer Saxild, Director
Michael Bank Christoffersen, Artistic Director
Ailín G. Brunet, Residency GM.

Galería Servando
Olga Lidia Triana, Directora
Gretel Castillo, Especialista principal
Delia Alonso, Veladora

Génesis Galerías de Arte
Jorge Alfonso García, Director General
Christmas Salon @ Alice Folker


13. November 2021 — 10. January



Untitled (mesh) 2020
Flint, rubber and acrylic on canvas.
30 x 25 cm (left)

Birkehøj Jættestue 2020
Oil and acrylic on canvas
24 x 30 cm (right)


Horse 2020
Magnetic paint, acrylic, post-it notes and magnet on found canvas.

Theodor Præst Nymark Jensen (b.1997)
Artist, musician, writer & curator.

BFA — Royal Danish Academy of Visual Art (2018- 2021)

Frederiksberg, Denmark

Tpnj@icloud.com
+ 45 40 57 18 04
Instagram

Host of KRITIKKLASSEN for Absalon Radio

Founder and curator of Salon 75 - Independent platform for contemporary art.
- https://salon75.org

Curator of GraveDwellers