Solo Shows

BFA Degree Show — The Royal Danish Academy of Fine arts 2021
Copenhagen, Denmark

Dream Structures, Ta-Da Space 2021
Copenhagen, Denmark

Drafts of Ecology/Beastial Fantasy, Patara Gallery 2020
Tbilisi, Georgia

CRITS, Brigade Gallery 2020
Copenhagen, Denmark

Roaming Away On The Pillars Of Consensus, CGK 2018
Copenhagen, Denmark

Group shows

"HUMAN ERR0R", GMO Gallery 2020
New York, USA (Online)

Staff Only, Salon 75 2020
Copenhagen, Denmark

Rehearsal of The Beast, Rum46 Studsgade 2020
Aarhus, Denmark

The Legend of the Larynx Metamorphosis 2019
Bologna, Italy

Zoom With Your Feet (Make Friends) 2019
Copenhagen, Denmark

Homesick Gallery - Fantastic Sunny Apartment And 10 Min To Manhatten 2019
Brooklyn, New York

Learning From (Learning) Albertslund 2019
Albertslund, Denmark

Supermarket Art Fair curated by Ta-Da 2019
Stockholm, Sweden

Pulsar Festival, Udstillingsstedet Q 2019
Copenhagen, Denmark

Vibevej Præsenterer: Rentemestervej 69B 2019
Copenhagen, Denmark

Førsteårsudstillingen, Udstillingsstedet Q 2019
Copenhagen, Denmark

Kunstnernes Efterårsudstilling, Den Frie Udstillingsbygning 2018
Copenhagen, Denmark

Calculation LIVE online-performance, Tashkent International Biennale for Contemporary Art 2018
Tashkent, Uzbekistan

Båndmagasinet no. 2, The Lake Radio. 2018
Copenhagen, Denmark

Walther & Langgaards Artists Supplies, Delfi 2018
Malmö, Sweden

Nye Rør!, Salon 75 2018
Frederiksberg, Denmark

Don't Feed The Troll, Salon 75 2018
Frederiksberg, Denmark

Vi Tager Intet Ansvar 5, Kræ Syndikatet & Warehouse9 2017
Copenhagen, Denmark

Flerdagesdrøm festival 2017
Slangerup, Denmark

Ingen Jury, Ingen Præmier, Salon 75 2017
Frederiksberg, Denmark

In The Gallery #10 No Title, Carlsberg Byens Galleri & Kunstsalon 2017
Copenhagen, Denmark

Spring Exhibition Charlottenborg 2017
Copenhagen, Denmark

Krystalpaladset, Odensemusikbibliotek 2017
Odense, Denmark





BFA DEGREE SHOW
21th May - 30th May 2021

Udstillingsstedet Q

The Royal Danish Academy of Fine Arts

Photography: Mikkel Kaldal




Carcass of Christopher Fen-Dweller & The Ascend of the Gothis 2020/2021
Casted gypsum, MDF, hinges, steel handle, foam, cable, flaming bulb, dry
leaves and twigs.
180x65x40 + variable dimensions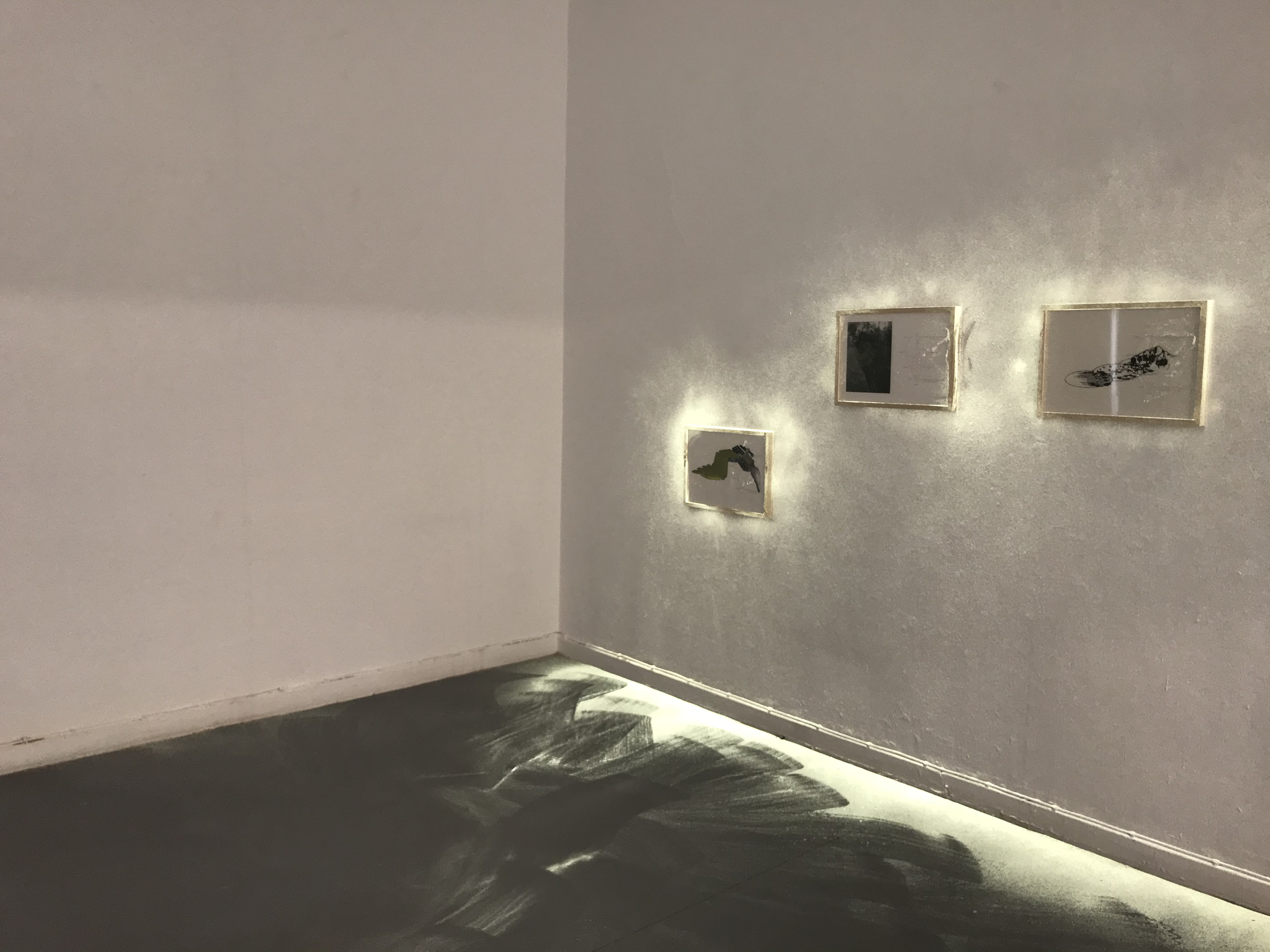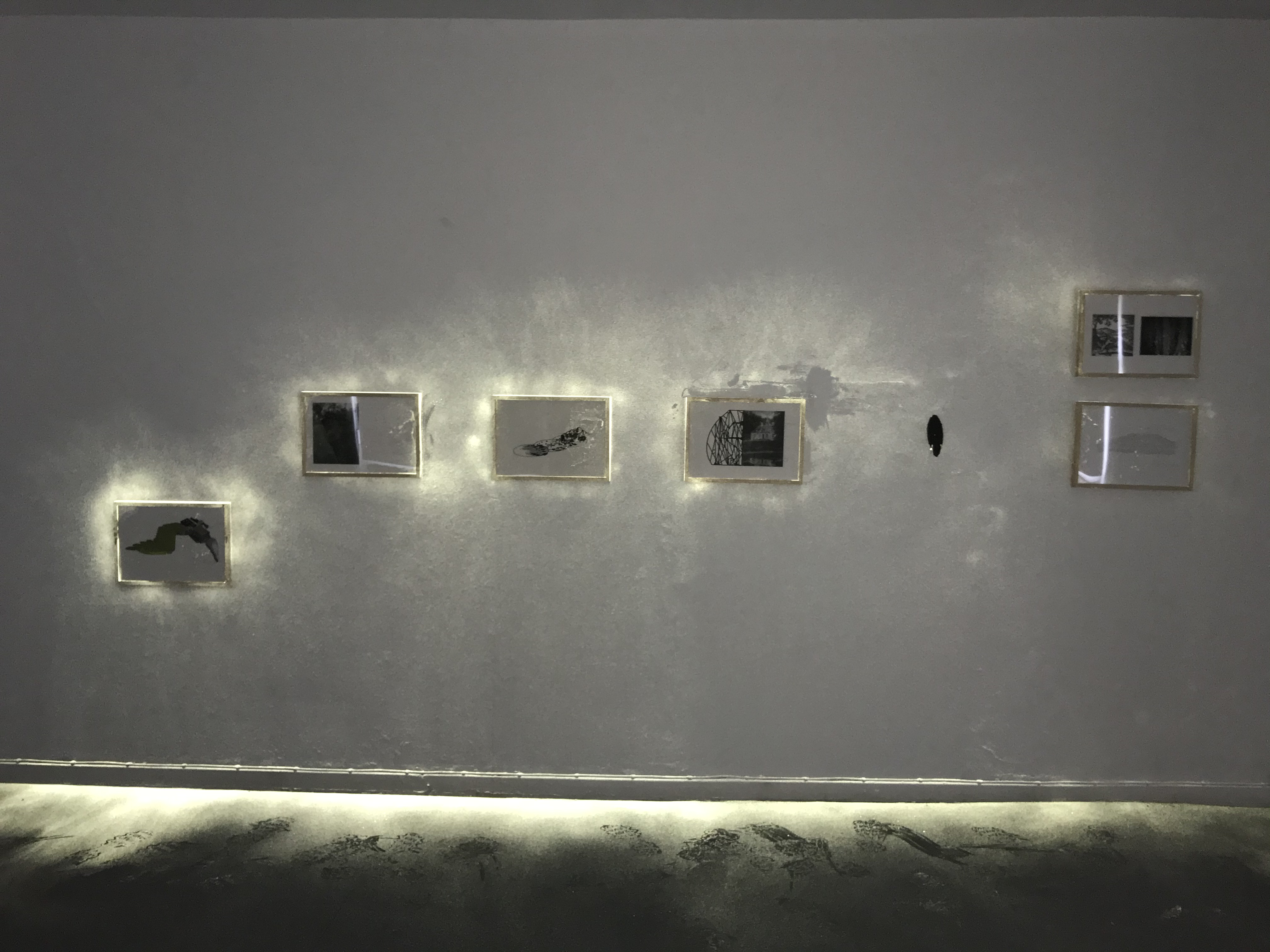 Smarthphone photos taken with flash

Flygildi® Surveillance drone (Munin) 2021
Inkjet on 100g Cotton paper in pinewood frame coated with Albedo100™
reflective spray for animals & pets with laser engraved Greencast™ 100%
recycled plexiglass.
Ed. 1/3 + 1 AP



Forest Vehicle (Liselund Castle) 2021
Inkjet and CNC embossing on 100g Cotton paper in pinewood frame
coated with Albedo100™ reflective spray for animals & pets with laser
engraved Greencast™ 100% recycled plexiglass.
Ed. 1/3 + 1 AP


Vesica Pisces/Ecotone Diagram (Tension of Oikos) 2021
Silkscreen on 100g Cotton paper in pinewood frame coated with
Albedo100™ reflective spray for animals & pets with laser engraved
Greencast™ 100% recycled plexiglass.
Ed. 1/3 + 1 AP



The Bionic Partition by Autodesk® & Liselund Castle (Hypha) 2021
Silkscreen and Inkjet on 100g Cotton paper in pinewood frame coated with
Albedo100™ reflective spray for animals & pets with laser engraved
Greencast™ 100% recycled plexiglass.
Ed. 1/3 + 1 AP



Sepia 2021
Magnetic paint and magnets on cuttlebone



Klekkendehøj Jættestue (Shelter of The Elders) 2021
Penplotting on 100g Cotton paper in pinewood frame coated with
Albedo100™ reflective spray for animals & pets with laser engraved
Greencast™ 100% recycled plexiglass.
Ed. 1/3 + 1 AP



Figure 8. from The Book of Lambspring & Aeroponic potato chamber (Individuation) 2021
Photogravure and Inkjet on 100g Cotton paper in pinewood frame coated
with Albedo100™ reflective spray for animals & pets with laser engraved
Greencast™ 100% recycled plexiglass.
Ed. 1/3 + 1 AP


Resurrection of the Beast 2021
Compost container, hair of a marsh truffle dog.
26x25x23 cm

Patara Gallery

12 september - 14 october 2020

Tbilisi, Georgia
Curated by Gvantsa Jishkariani

http://pataragallery.com/en/

Drafts of Ecology/Bestial Fantasy


The exhibition Drafts of Ecology/Bestial Fantasy by artist, filmmaker, curator and composer Theodor Nymark revolves around four diagram-like illustrations which depict the grand narrative of the coming film by the artist; The Picturesque Beast. The illustrations consist of manipulated and vectorized imagery, architectural floor-plans (From a passage-grave and a neoclassical Liselund Old Palace, both central architecture of the film), descriptive texts and narrator models.

The primary aspect of the narrator model and the contradictory distinction between the primal and the picturesque is central for the narrative to unfold. As seen in three of the illustrations (Primal, Picturesque, Metamorphosis), the narrator model (appropriated from Carl Jung) depicts a descent from the picturesque to the primal and back as seen in the illustration entitled Drafts Of Ecology. The relation and contradiction between the phenomenological concepts of the primal and picturesque arose from a 19th-century romantic understanding and distancing of nature as a phenomenon, rather than as an inevitable aspect of ecology, evolution and therefore culture. That exact same distancing is relevant today as it follows up to 21st-century thinking and its effect on climate change, industrial production, xenophobia and economic accumulation.

The Metamorphosis depicts both the actual transformation of the character from human to wolf (or picturesque to primal) by the application of a prosthetic nose and the contradicting ecological relations in contemporary materiality. The central materiality of modern technology derives primarily from rare-earth-minerals and alloys which are resources naturally harvested from mines. These resources reflect the ecology of all existing objects as they symbolize the union of an ever-growing distinction between man and nature.

Inspired by thinkers and writers as Timothy Morton (Hyberobjects, Ecology Without Nature), William Gilpin (Forest Scenery), Carl Jung (his concept of the Corascene Dog) and Snorri Sturluson (The Poetic Edda) the narrative explores dialectical relations in aspects of society such as culture and nature, biology and technology, fiction and reality, past and present, dog and wolf, good and bad.



The Primal
500 gsm heavy-duty tarp (PVC) material (fire resistance rating "B1 (self-extinguishing)
150 cm X 100 cm

The Picturesque
500 gsm heavy-duty tarp (PVC) material (fire resistance rating "B1 (self-extinguishing))
150 cm X 100 cm



Drafts Of Ecology
500 gsm heavy-duty tarp (PVC) material (fire resistance rating "B1 (self-extinguishing)
150 cm X 100 cm



The Metamorphosis
500 gsm heavy-duty tarp (PVC) material (fire resistance rating "B1 (self-extinguishing)
150 cm X 100 cm


Brigade Gallery

3 July - 24 July 2020 Vesterbro, Copenhagen

CRITS Duo solo-show w/ Sofus Keiding

Curated by Michael Bank Christoffersen.

https://www.brigade.site/crits




"Drafts of Ecology" 2020
Variable dimensions

Passage grave of graphite on paper
The Complete book of self-sufficiency by John Seymour with landscape modeling trees
Dollhouse Empire Furniture with flint flakes
The three assemblages are small tableaus relating to the notion of ecology and architecture. The miniature-like situations also act as diagrams for understanding the historical and spiritual aspects of ecology within the framework of the coming film by the artist.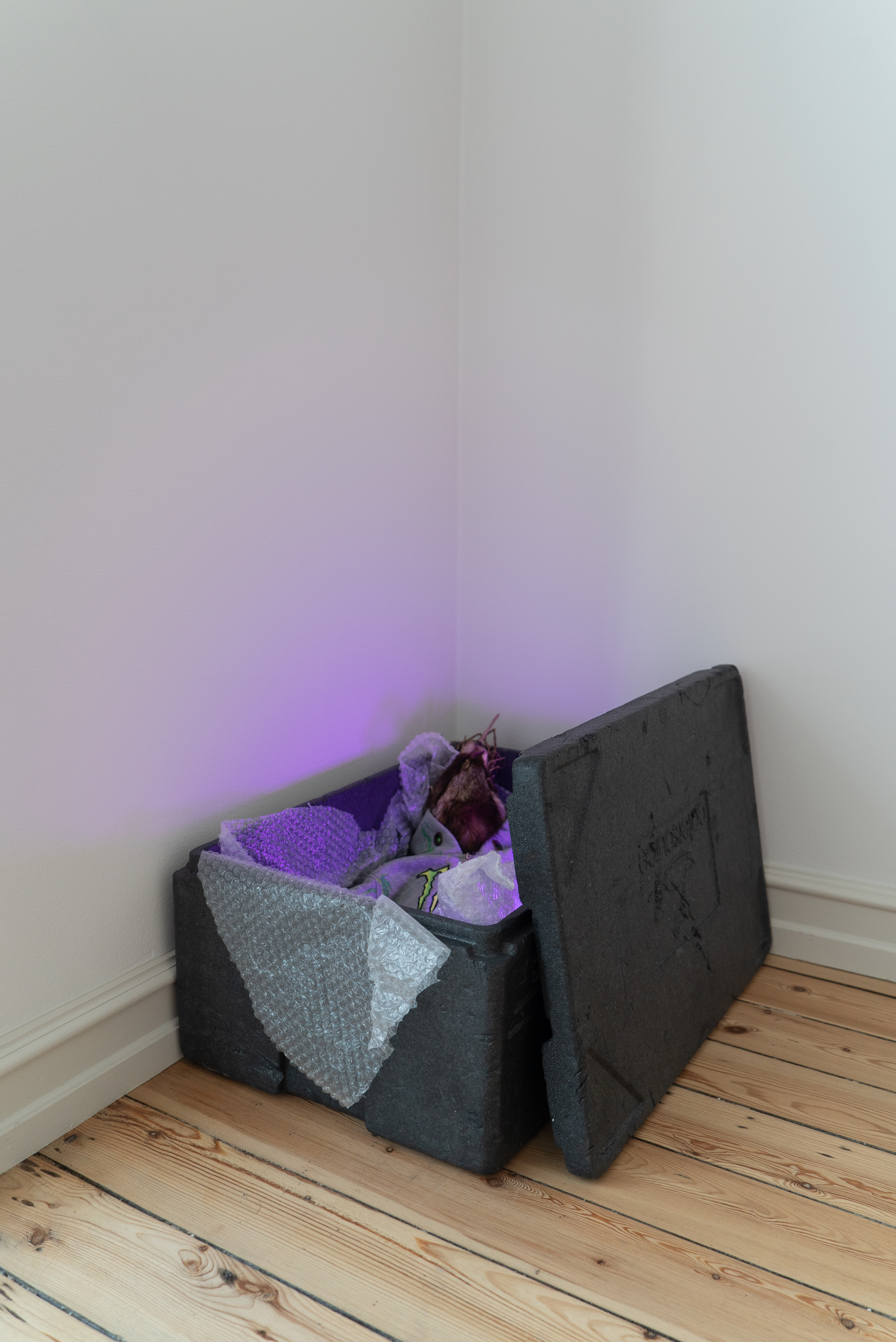 "Nest of The Beast" 2020
30x45x60
Styrofoam Thermobox, Monster Energy hoodie, dried branches, skin of a badger, bubble wrap, USB grow lights, USB hub, power strip with modelling grass.
A tomb-like case inhabited by an anthropomorphic figure resembling the carcass of the protagonist, Fen-Dweller - the main character of the narrative in the coming filmwork of the artist.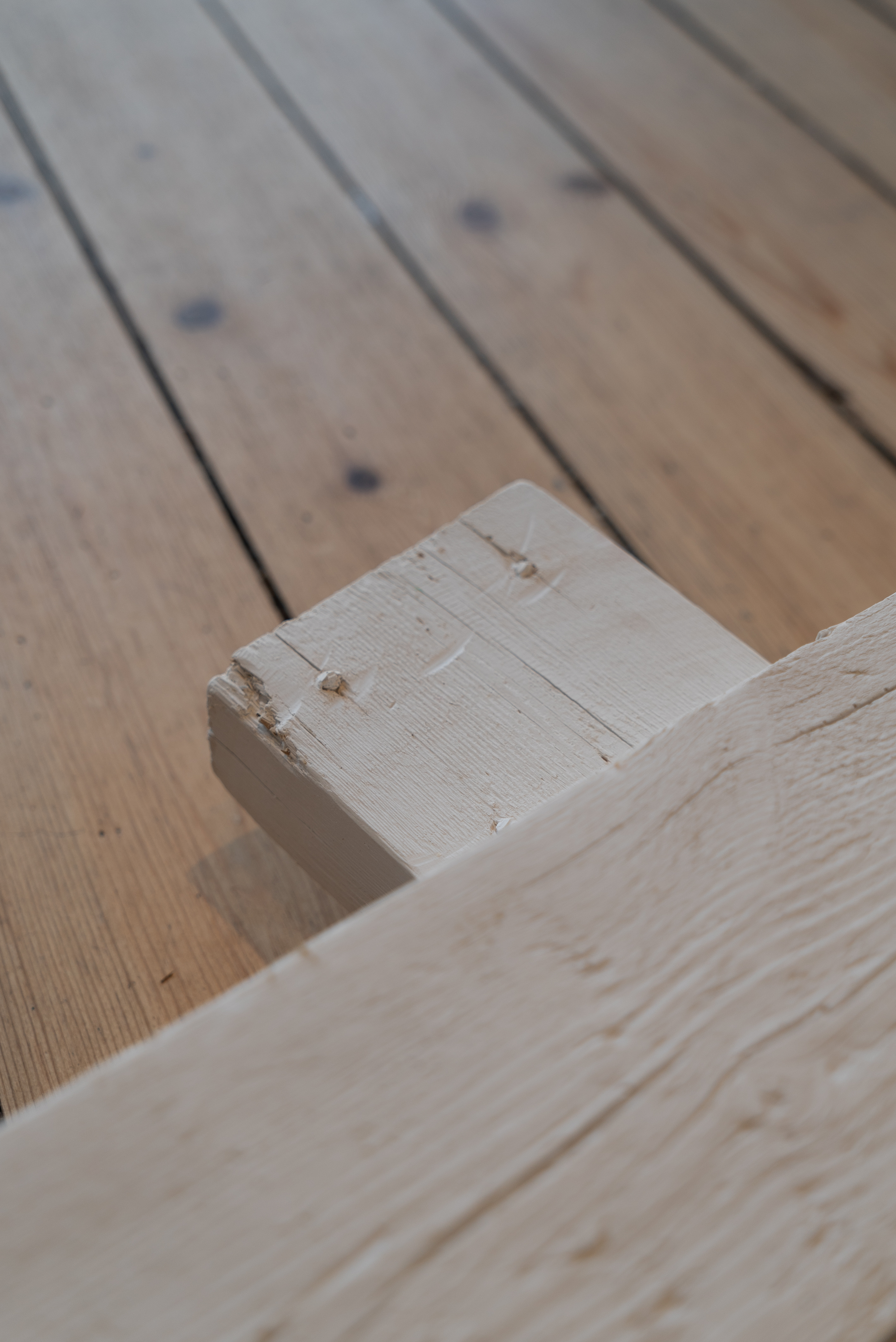 "Chalk Cliff Staircase (host body)" 2020
170x45x30
Casted gypsum
Plaster cast of a fragment from a broken wooden staircase leading down to the chalk cliff on the island of Møn. An island in which the film by the artist revolves around and as a geography for the narrative.

The Legend of the Larynx Metamorphosis



By Theodor Præst Nymark Jensen & Sofus Keiding Agger.

With support by Mikkel Drabik Jacobsen, Bruno Zhang & Evan Lu.

The exhibition at GARAGE 9 in Bologna examines the concept of the flood-myth as an instrument of power and a global mythological legend. The works in the exhibition visualize an imaginary conspiratorial narrative, evolved upon a self-written text, that translates into speculation about the results of a potential flood of, among others, Bologna and Homosapiens' ability to adapt to this suggested situation.

Told with mythical language, the text describes a story about two craftsmen who wander from the mountains, and down to the center of Bologna. There, they publically announce a solution of survival to the potential flooding of the city. Through rich telling they propose a ritual of transformation which replaces the human lungs with a fish gill apparatus. A young boy, willing to participate, experiences the greatest heroic sensation of his short life and attempts to make his old fisherman father proud. To everyone's surprise, something unexpected happens and the duality of the narrative blossoms in uncanny tragedy. Thereby the craftsmen demonstrate a biological change to evolve as a species, acting in a dialectical drama of battling the inner and outer superior nature.

13th September – 15th September 2019 Garage 9, Via Di Saliceto 9H, Bologna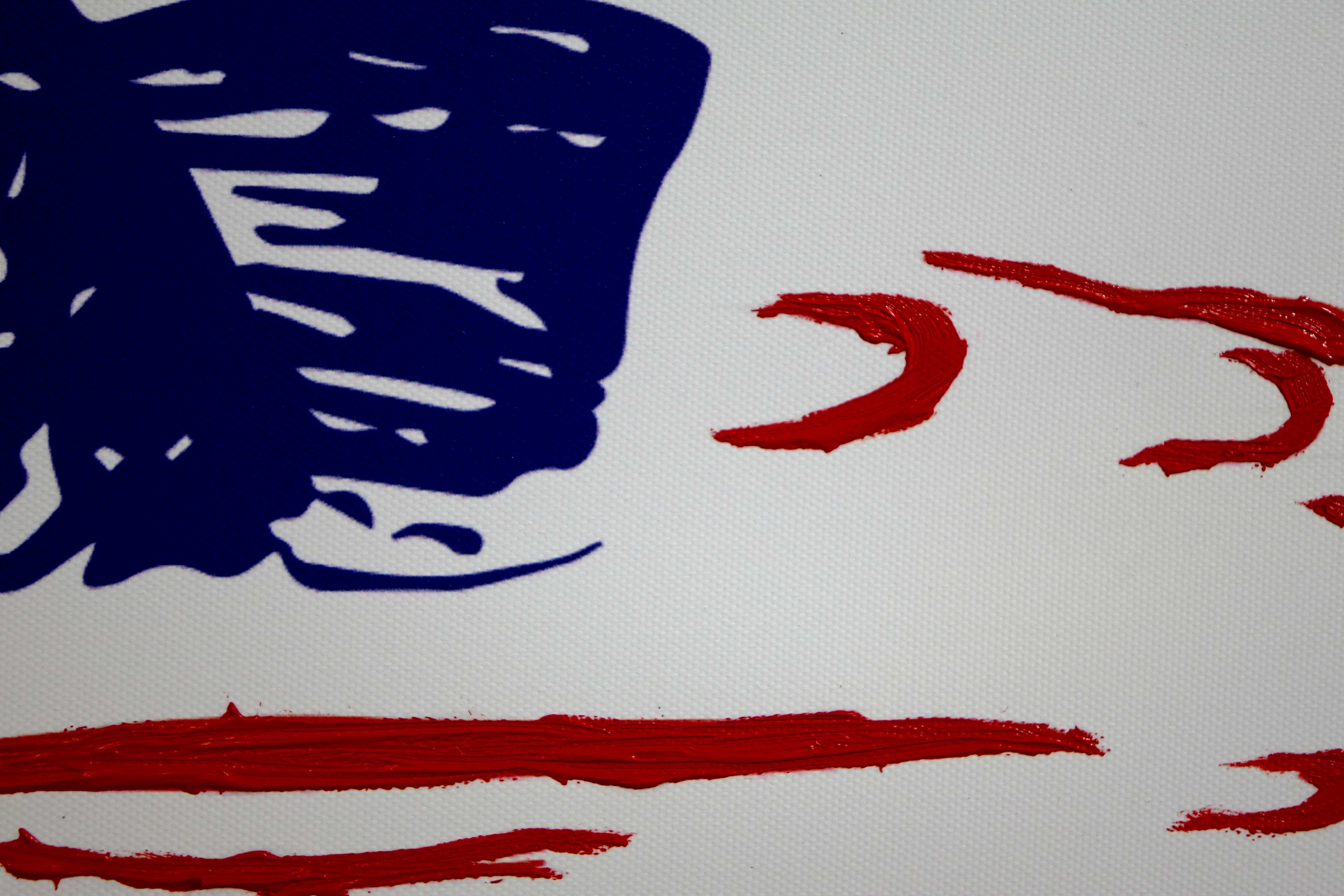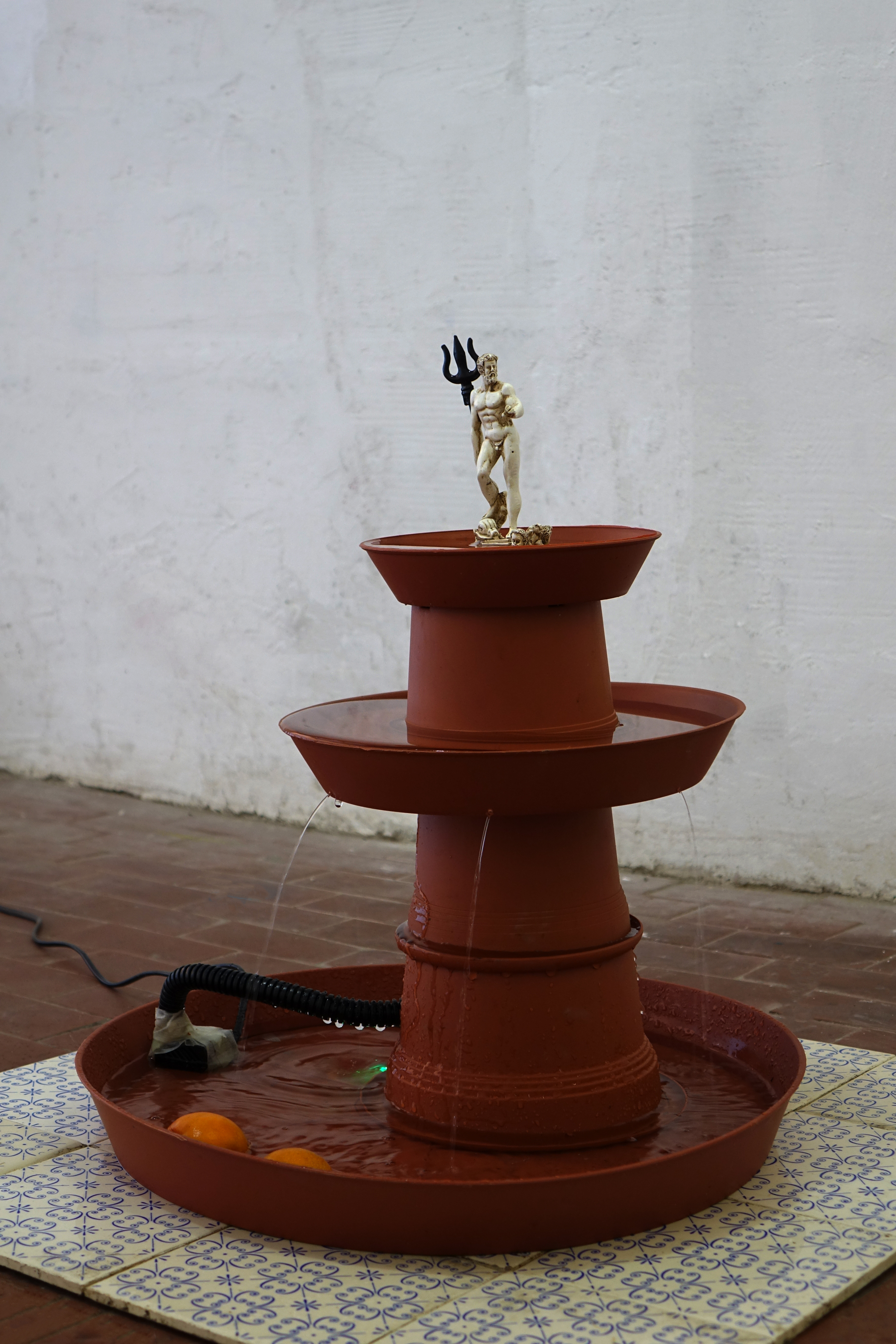 Blomsterbedets aura
Når museerne lukker, må digitale løsninger træde til. Men er det noget nyt under forårssolen?

Mandag den 16. marts lukker Danmark ned. Museerne har tyvstartet med nedlukningen, da de som sædvanlig holder lukket om mandagen. I kølvandet på nedlukningen tyede de fleste kunstinstitutioner til forskellige strategier for, hvordan de ønskede at overleve de kommende måneder. Nogle af disse strategier inkluderede aflysninger, udskydelser og i sidste tilfælde – digitalisering. Netop en digitalisering skulle blive deres foretrukne, og inden længe var kunstverdenen i skyen. Samlinger og udstillinger kunne nu opleves igennem formater såsom Instagram, indlevende 'viewing rooms' på initiativ fra store gallerimastodonter og kunstmesser eller sågar ved hjælp af onlinekonferenceplatformen Zoom.

Disse tiltag skulle i offentlighedens øjne fremgå som kulturlivets redning, men for mig at se var der intet nyt under forårssolen. I lang tid har den ikke-institutionelle kunst levet i skyggen af kunsthistoriens dominerende traditioner. En forestilling om autencitet - auraen der fastholder at originalen overgår reproduktionen. Den kunst der formidles digital, den som lever i kraft af gengivelsen har længe været uafhængig af hvidmalede vægge for at opnå eksponering. Den eksponering er båret af internettets uvurderlige evne til at samle enhver interesseret og dele til alverdens publikum. Et medie som har båret sådan en slags udvikling er Instagram, den onlinebaserede fotodelings- og sociale netværkstjeneste som tittede frem fra reden i 2010. Et helt nyt format, en forlængelse af øjet, har taget over, der hvor tidligere museale generationer mistede fodfæste. Dem som nu sætter dagsordenen for digital kunstformidling er blandt andre den toneangivende russiske platform: Tzvetnik.

Tzvetnik betyder på russisk: En have fyldt med blomster og dette bed har blomstret siden 2016 takket være Vitaly Bezpalov & Natalya Serkova - to unge kunstnere og kuratorer bosat i Moskva. Som udgangspunkt er deres mission simpel: At dele dokumentationsbilleder af kunstværker online fra udvalgte kunstudstillinger. Hvad de måske ikke havde forestillet sig fra start var, at i tråd med den voksende popularitet for deres format, voksede også interessen for at tage del i samtalen om kunstens væsen. En samtale som udviklede sig hastigt hen imod tiltag fra diverse kunstnere verden over, som blandt andet skulle indbefatte kunstudstillinger i kældre, klædeskabe, kropsåbninger, skovbryn og i et pizzeria. Denne kunstneriske udstillingstradition som ellers stammer fra 1950'ernes happenings, hvis ikke ligefrem man medregner Gustave Courbet's skelsættende udstilling, Pavilion du réalisme, en udendørs glaspavillon som han byggede selv til det formål, at vise sine malerier til offentligheden, efter han blev afvist af juryen ved årets årlige verdensudstilling i 1855.

Altså, intet nyt koncept, men siden internettets fremkomst er denne praksis blevet langt mere tilgænglig for offentligheden, og nye ukonventionelle rum tager nu form som gallerier. Denne frigørende forståelse, altså at kunstneren ikke skal afhænge af repræsentation fra et galleri for at kunne udstille sine værker til offentligheden, er præcis det som Soundcloud formåede at gøre med musikbranchen i 2013, da alle frit kunne dele deres musik online uden omkostninger og med muligheden for at opnå bred dækning og først og fremmest let tilgængelighed. Den lette og frie tilgængelighed er både beundringsværdig men samtidig ufiltreret. For i takt med at alle kan agere aktører i et stort fælles netværk, kræver det nøgtern separation mellem skidt og kanel og kuratorisk erfaring, for hvad der bør fremhæves, og hvad der bør efterlades tilbage til hundene.
https://salon75.org/A-few-words-with-bob
http://passiveaggressive.dk/clarissa-connelly-fremtidsspekulerende-popmusik/
http://passiveaggressive.dk/kraus-nuancer-af-stilhed-og-sakral-stoj/
https://passiveaggressive.dk/help-recordings-the-golem-tape/
Theodor Præst Nymark Jensen (b.1997)
Artist, musician, writer & curator.

Student at the Royal Danish Academy of Visual Art (2018- 2025)

Frederiksberg, Denmark

Tpnj@icloud.com
+ 45 40 57 18 04
Instagram

Host of KRITIKKLASSEN for Absalon Radio



Founder and curator of Salon 75 - Independent platform for contemporary art.
- https://salon75.org

Curator of GraveDwellers


Curating:

2021
GraveDwellers #2 Møllehøj Jættestue

2020
Claus Haxholm. @ Salon 75
Im Drunk And I Want To Sleep In The Bog Tonight! @ Salon 75
Martin Aaagard Hansen @ Salon 75
GraveDwellers 1# @ Øm Jættestue

2019
State of Affairs by Bob Bicknell-Knight (UK) @ Salon 75
New, Other, Odd https://newotherodd.com (film festival) @ CGK (Carlsbergbyens kunstgalleri & salon)
Emilie Viktoria KJÆR & SóLEY RAGNARSDóTTIR @ Salon 75
PINE SLEEVES (IL/DK) @ Salon 75
Shape shifting, brow lifting, block kitchen @ CGK (Carlsbergbyens kunstgalleri & salon)

2018
Honeyland festival http://honeyland.dk/ (art & music festival) @ Bornholm
Figures Of Speech @ Salon 75
Nye Rør! @ Salon 75
DON'T FEED THE TROLL @ Salon 75

2017
Compression by OK_Dog Collective (GER) @ Salon 75
IN BETWEEN AND AFTER @ Salon 75
Squinting at what appears to be almost there @ Salon 75
INGEN JURY, INGEN PRÆMIER @ Salon 75
I am responsible for all living beings' happiness @ Salon 75

2016
10 Timer I Aktivt Tomrum (art & music festival) @ Villakultur (Krausesvej 3)