Locarno Film Festival Basecamp 2023: Anthology of the Field
Curated by Justine Knuchel

Artist, curator and filmmaker, Theodor Nymark initiates an evening consisting of a reading of a poem, a gathering of flowers resolving in a collective bouqet, a presentation of a field recording and an AI photograph.

The performative work and project gesturally explores different ways of encapsulating and relating to landscape, and more specifically, a field. By incorporating several interpretations and layers of this investigation the project includes materialities such as sound, image, plants, stone age residues and literature and thus seeking to unfold the field in various mediums.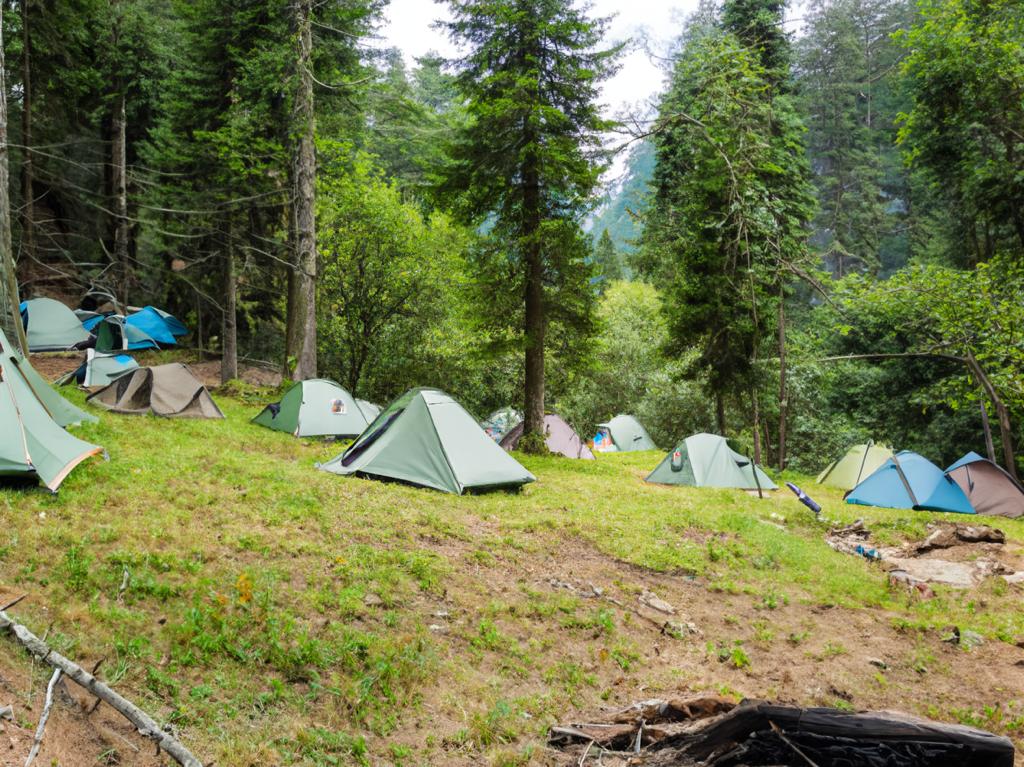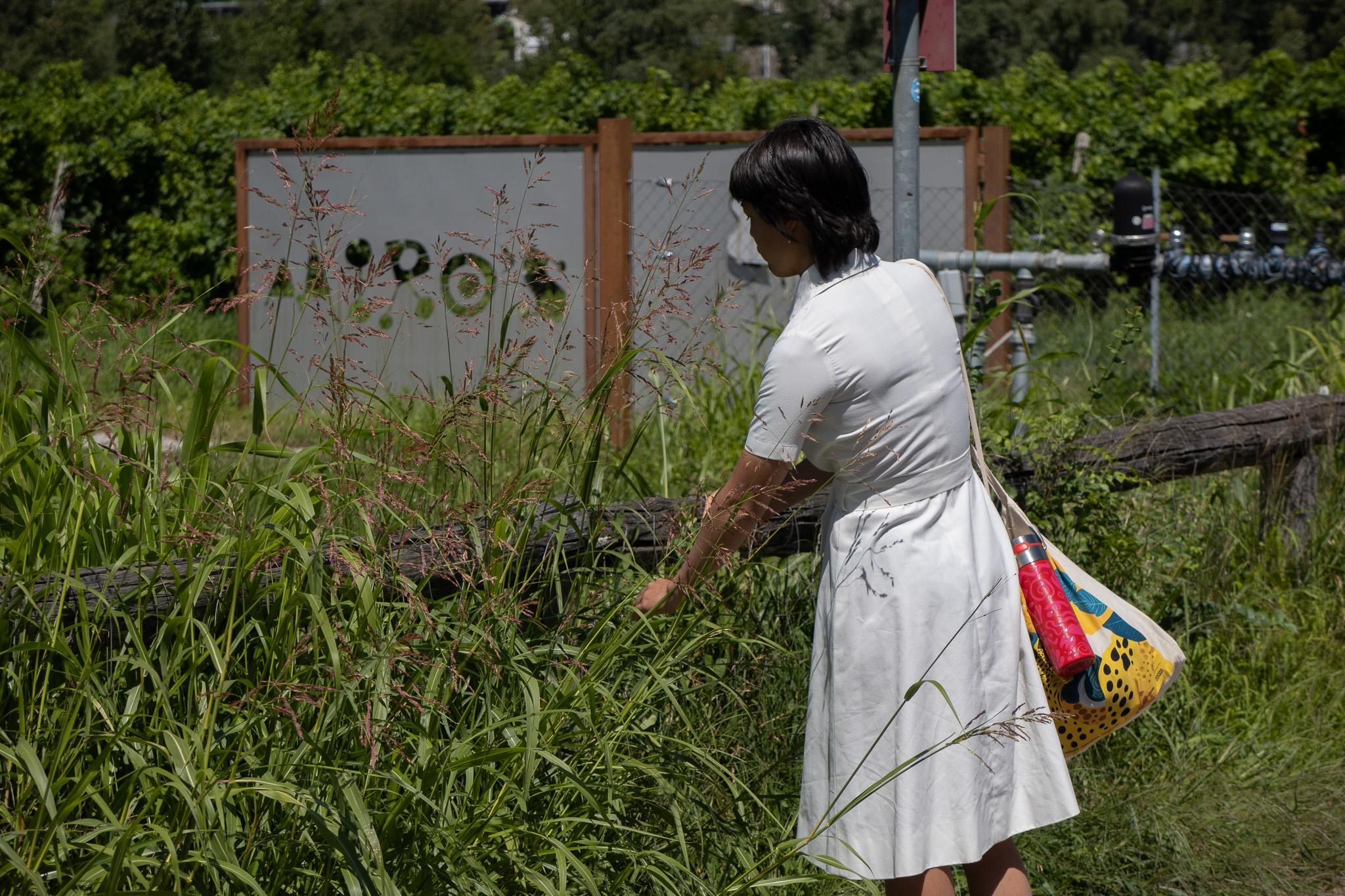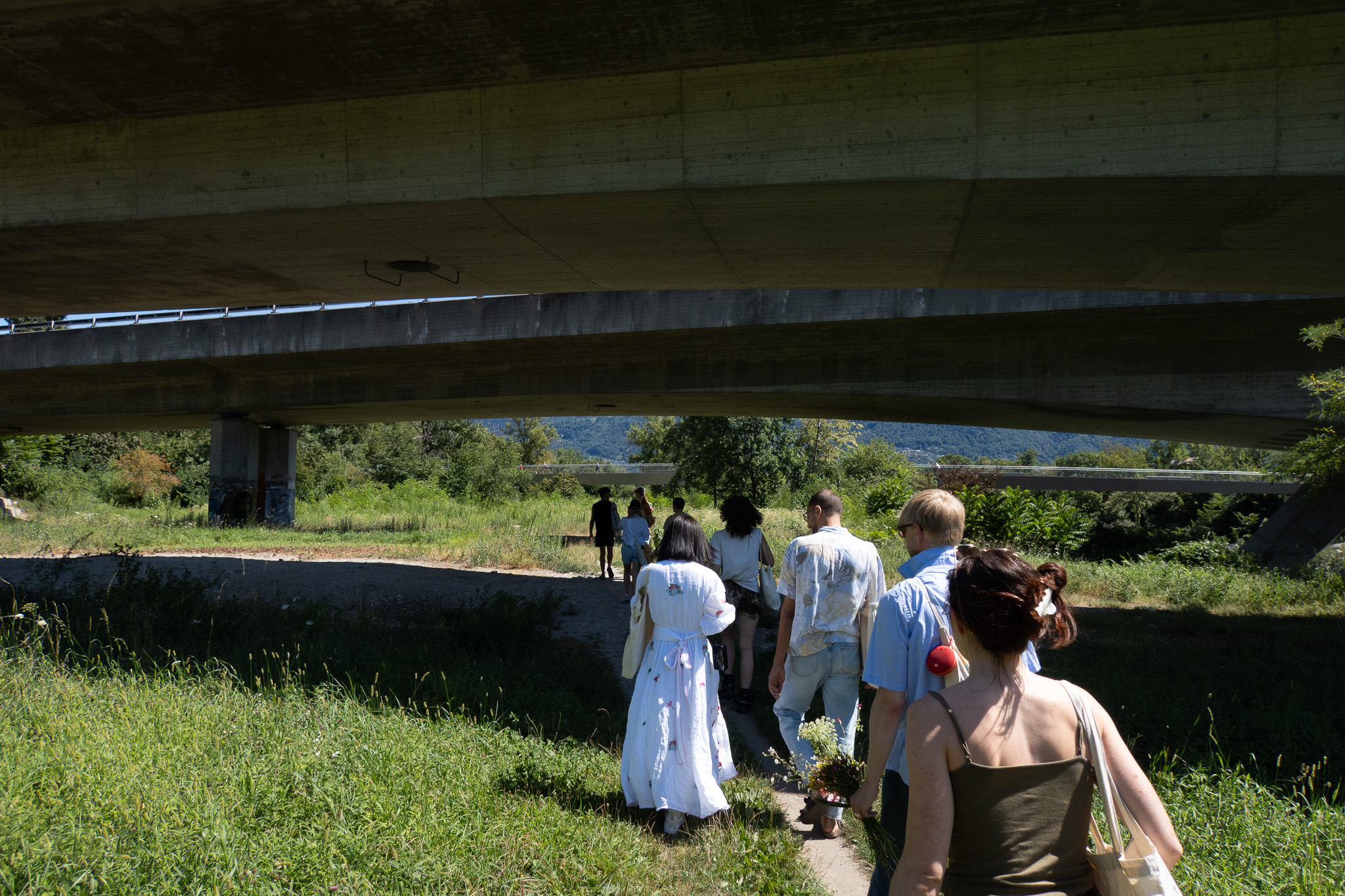 Ètudes De Paysage

@ Ping Pong
Kgs. Nytorv 1
Copenhagen, Denmark

14th July — 20th July 2023

I'm Iistening to jolly cows, I'm lying in a grass field. Marie has sent me some pictures of ghosts, I saw a carcass today. In the book I'm reading, Roadside Picnic by Arkady and Boris Strugatsky, is a description of a picnic on a Sunday afternoon: Young kids driving in a borrowed car, settling down in a meadow near the parking lot and the country road. They take out bottles, food, transistor radios, cameras and camping gear and have a party. In horror the local animals and insects watch the humans from afar. The next morning, when the party has left, the locals creep out carefully to see their environment completely changed by a mess of old spark plugs, filters, burnt-out bulbs, miscellaneous trash and faded flowers picked in another meadow. In the book, the image is meant to illustrate an extra-terrestrial visit. A character from Roadside Picnic goes by the name The Vulture. He is ruthless when scavenging alien leftovers. There are no vultures here, circling above me. In this world, the global vulture population is declining, disrupting an ecology of organic waste disposal. Vultures eating cattle carcass treated with different, widely used anti-inflammatory drugs die of kidney failure. It's a catastrophy for the Indian Parsi community, who practice the ancient Zoroastrian sky-burials where corpses are exposed to and eaten by vultures. Since the 90's the Indian vulture population has dropped from millions to thousands. This information is… knowledge malaise, it's difficult to consume. Vvvvvulture. A stroke from the upper left corner drawn down towards the center. A second stroke going from the center back up towards the right. V.

If you put the upper fraction of two halved circles on top of the V it makes a heart. In semiotics a heart-shaped heart is an expression of love. A whiteboard is an exposed, submissive surface, inviting hands to erase or modify its previous agenda.

The vulture is wiped out, instead an opportunistic "Christine" is written in big letters during a break, hearts are drawn above the i's. The glossy white finish is an information host which welcomes language, symbols, numbers and images, but the premise is ecological. It's based on an educational system where knowledge has a duty to replace "ignorance". In a classroom a whiteboard hovers like a crane as structure and potential over the school tables.

If the flesh of a carcass would go too far in its decay, dangerous diseases could spread to its environment. The vultures' consumption of the dead is extremely sufficient. Imagine the terror of encountering a ghost vulture full of ghosts. I'm even haunted by the daunting, fearless scavenger in Roadside Picnic. That's why there's something appealing about a whiteboard, it forgives your misspellings and inattentive equations. In her essay on ancient Greek love poetry "Eros The Bittersweet" Anne Carson writes that if the pleasure of ice consists in novelty, then ice must melt in order to be desirable. Ice is crystal glamour, and when you hold it in your palm, it melts. Impermanence serves well both pictorial representation and flatness.The flux potential of images and intention reveals its ambiguity as the school day is over and last subject's scribbles remain on the whiteboard. Bewildered by the liberty of free time, everyone leaves in a rush. In the empty classroom a student sneaks up to the board, wipes it and with red and blue ink marker he draws a big cock on erased algebra. Like flowers picked in another meadow, in the morning the action has turned into an unclear message, awaiting a different, uniformed group of people having a seminar.

Christine Arendse Dahlerup
@christinedahlerup
2023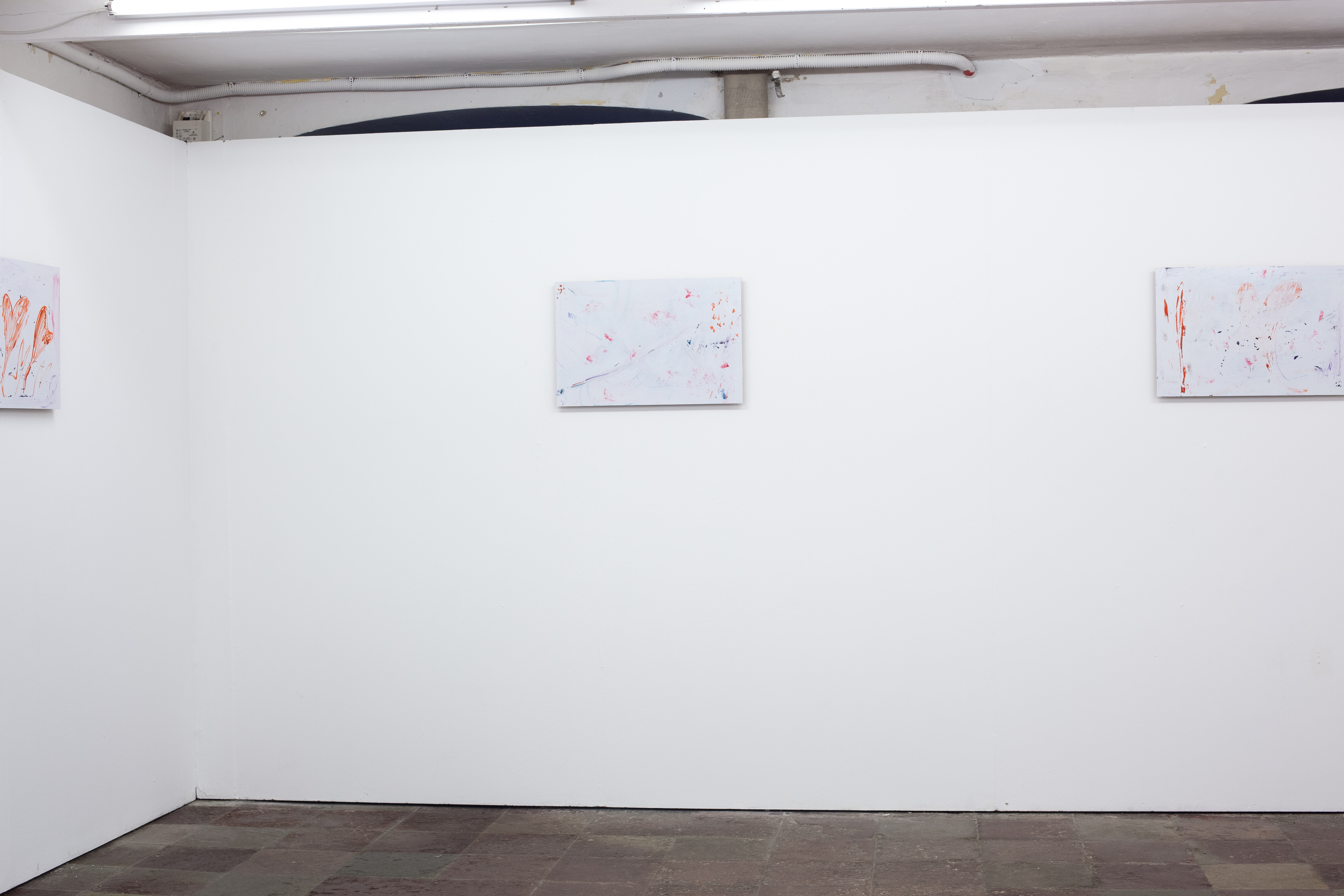 Scène De Côte Avec Un Artiste, 2023
Dry earase ink on whiteboard foil
mounted on HDF.




Départ Pour Les C, 2023
Dry earase ink on whiteboard foil
mounted on HDF.




Arche Rocheuse Et Une Rivière, 2023
Dry earase ink on whiteboard foil
mounted on HDF.



Lever Du Soleil, 2023
Dry earase ink on whiteboard foil
mounted on HDF.



Le Moulin 2023
Dry earase ink on whiteboard foil
mounted on HDF.



Le Vacher, 2023
Dry earase ink on whiteboard foil
mounted on HDF.



La Danse Country, 2023
Dry earase ink on whiteboard foil
mounted on HDF.



Le Troupeau Revenant Par Temps Orageux, 2023
Dry earase ink on whiteboard foil
mounted on HDF.



Ambience, 2023
Life Time folding table,
Stereo Radio Cassette Recorder,
oxidated copper, various road median
flowers, ceramic vase, styrofoam cooler,
plastic cups, Créme De Cassis,
Chardonnay.






Domaine d'Ètude
Theodor Nymark

Spread Museum Residency

May 2023 Entrevaux, France



Domaine d'Ètude or Field Study is a compilation of gestures and situations

comprised of assemblages, sculptures and paintings made during the

month of May 2023 in Entrevaux, France by artist and curator Theodor Nymark

in relation to a residency hosted by Spread Museum and Visual Arts Agency France.

The anthology of content investigates the historical and aesthetic qualities

of the surrounding areas and pose to negotiate and encompass notions of

the ephemeral, environmental and essential.





Domaine d'Ètude 1
2023
Algae on cotton paper,
plastic foil, colored tape,
travel brochure, dried pine twig.

Location:
Apartment at Rue Du Marché in Entrevaux.


Domaine d'Ètude 2 2023
Algae on cotton paper,
travel brochure, dried thistle.

Location:
Apartment at Rue Du Marché
in Entrevaux.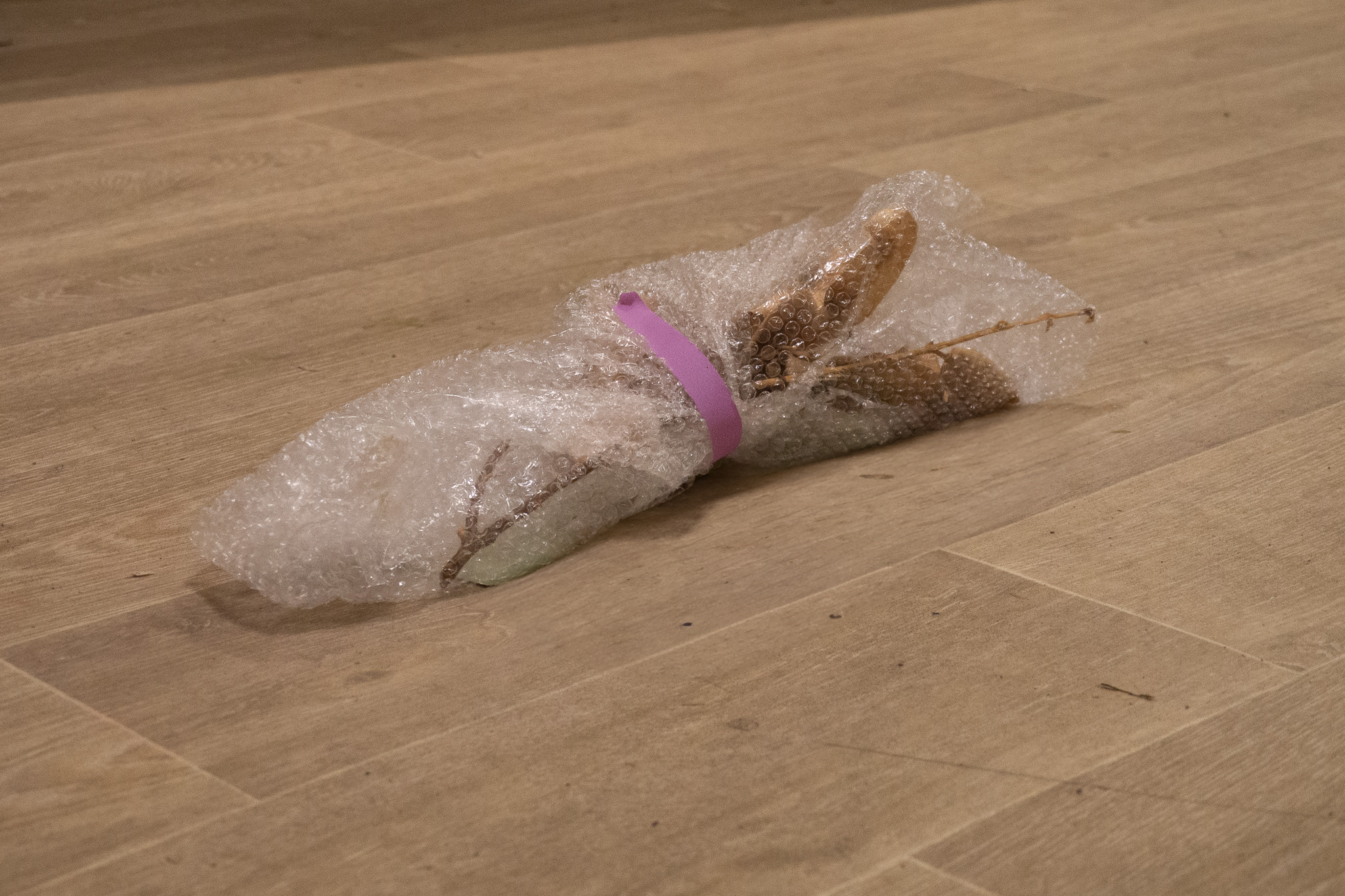 Protectrice 2023
Bubble wrap, colored tape and dried cherry laurel.

Location:
Apartment at Rue Du Marché in Entrevaux



Outils Ou Changer 2023
Resin hand axe and receipt

Location:
Inside window sill of rented Toyota CH-R
Hybrid in Malausséne by the Vàr river.


Succession De Pourriture 2023
Purchased empty Escargot shells and clover mites.

Location:
Composting field of Jardin d'Entrevaux.




Representation of the settlement in the Lazaret Cave in Nice. Source: Locutus Borg [Public domain]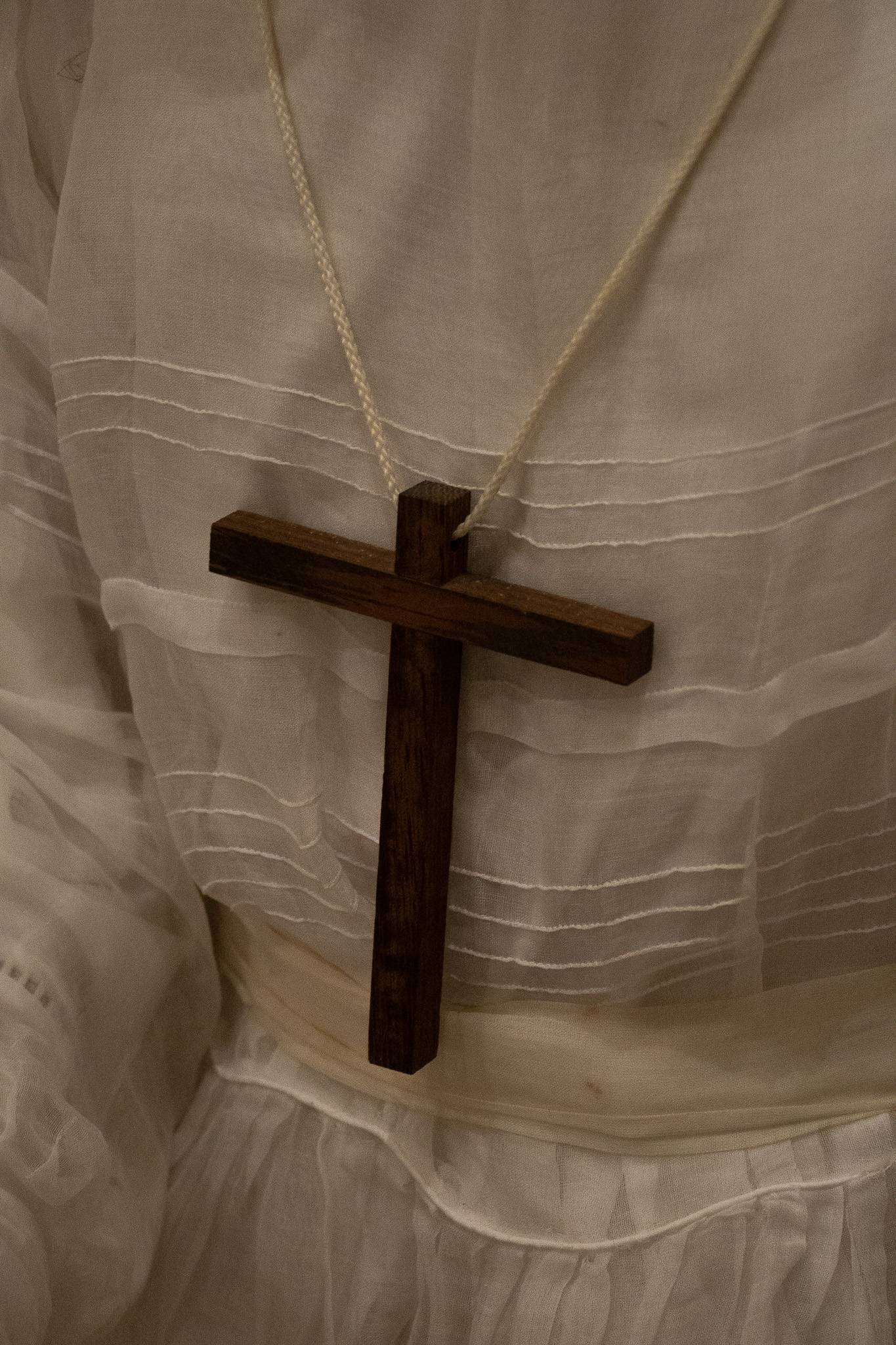 Diagramme Du Lazaret 2023
Shipping cardboard box, colored tape,
masking tape, permanent marker, candlelight, travel brochure,
algae and water on cardboard.

Location:
Entrevaux History Museum, sewing room.

SWEET TO TONGUE – SOUND TO EYE
06.08.22 – 23.10.22

https://augustiana.dk/udstillinger/sweet-to-tongue-and-sound-to-eye/

Curated by Sophia Luna Portra

STELLA BELING, FREDERIK EXNER, AVA SAMII, NOAH UMUR KANBER, THEODOR NYMARK, MARIANNE HESSELBJERG, JOHANNE STOFFERSEN, ALBERTE HARBOE WESTERGAARD, ROLF NOWOTNY, MARTIN BRANDT HANSEN, KRISTOFFER BECH OG LEA GULDDITTE HESTELUND.


Theodor Nymark
Ivy, and her Host (2022)
aluminum cast & brass
60x320cm approx